P L A N T S F O R F A L L / T R E E S /
C H A M A E C Y P A R I S O B T U S A ' C R I P S I I '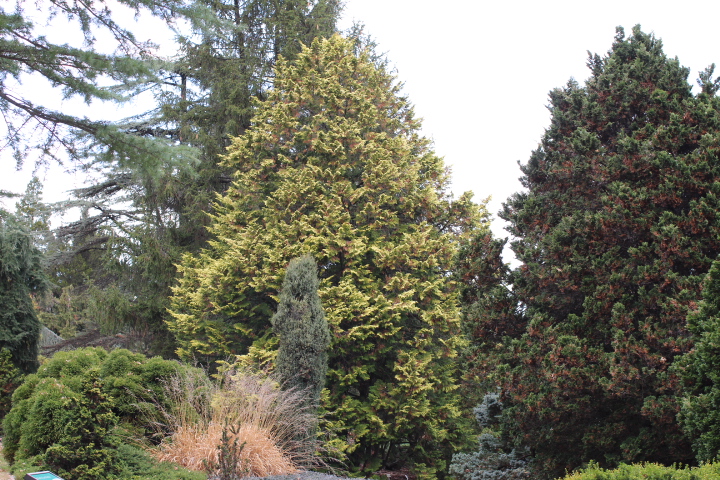 C O M M O N N A M E : 'Cripps Golden' Hinoki Cypress
O R I G I N :Japan
F A M I L Y : Cupressaceae
Z O N E : 4 to 8
T Y P E : Evergreen
H E I G H T : avg. 50-75'
S U N : Partial shade
S O I L : Clay, loam
M O I S T U R E : well-drained
 
T A G S : cultivar, screen, hedge, bonsai, monoecious, scale-like leaves, fragrant bark and leaf
D E S C R I P T I O N
A very broad and towering cultivar of the Hinoki Cypress is best identified by its golden-tinged leaves that remain bright green moving towards its center. Its growth rate is moderate as 'Cripps Golden' matures into a symmetric form that spreads between 20 to 30'.
F O L I A G E & C O N E
The scale-like leaf is arranged opposite and sub-oppositely, simple, with an entire margin and a blade less than 2" in length. As an evergreen, there is little to no change to its hue in the fall.
T R U N K
The bark is a reddish tint that peels in strips. The branching droops and carry thorns on them. Very little pruning is required.
C A R E
Grow in partial sun with well-drained soil with protection from harsh winds is ideal. If grown in partial shade, the yellow highlights become more pronounced.
________________________________
S O U R C E S
"Manual of Woody Landscape Plants," by Michael Dirr.